£100,000 funds for Northern Ireland World War I projects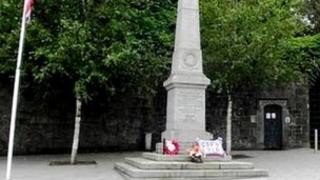 Grants totalling £100,000 are being awarded to projects to help Northern Ireland communities explore their links to the First World War.
The money from the Heritage Lottery Fund (HLF) will support five new heritage projects.
The projects aim to help communities better understand the First World War period and other events that impacted on both local life and the world stage.
Among them are projects in Newry and Mourne, Ballymoney and Tandragee.
The Newry and Mourne project is exploring the impact of the war on the area through a series of educational activities and community events.
In Ballymoney, the heritage of soldiers from the town who fought in the war will be researched and recorded.
The history of those named on the Tandragee War Memorial will also be explored.
The two other projects will see the events of the years 1913-14 explored from a unionist, nationalist, female and trade unionist perspective, while the story of the SS Clyde Valley and its links to the Larne gun running event of 1913 will be brought to a wider audience.
Paul Mullan, Head of HLF Northern Ireland said: "All communities living in the UK and Ireland have been affected by the First World War in some way, either by the events that took place, or by the changes it brought about.
"Projects like the ones to receive funding today are great examples of how we can support communities to get involved in learning about this period.
"We have a special programme that provides grants for First World War projects to enable people to mark the upcoming centenary and create a deeper understanding of how the war changed the course of history, not only here in Northern Ireland but throughout the world."