SAS Doherty and Fleming killings inquiry postponed again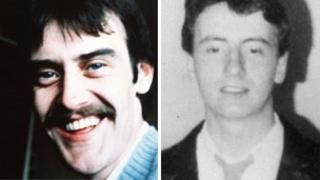 A preliminary inquiry into the killings of two IRA men shot dead by the SAS has been postponed again.
Danny Doherty and William Fleming were shot dead in the grounds of Gransha Hospital in Londonderry in 1984.
The inquiry was delayed because the Ministry of Defence and the PSNI were unable to submit key evidence.
The coroner said a timetable for the identification of witnesses and material must be set by 6 January to avoid "continually ping-ponging".
"The case is rumbling on and I'm not suggesting anyone is deliberately delaying it, but we do seem to be moving slowly," he said.
'Little progress'
At the time of the shooting, the MoD alleged that Mr Doherty was armed and that he and Mr Fleming were suspected of preparing to ambush an off-duty UDR soldier.
A previous preliminary hearing in October was also adjourned due to a delay in the MoD and PSNI sending the coroner's office important documents and witness statements.
A barrister representing the families of the two men said: "It's disconcerting that, despite assurances, very little progress has been made."
This was rejected by a barrister for the PSNI, who said "considerable effort" had gone into contacting three potential witnesses.
He said it required much work and resources to find them and to identify a number of additional witnesses.
'Voluminous'
When pressed on the failure to submit certain documents to the coroner's office for Thursday's hearing, he said: "All documents have to be safe before they go out.
"It's not just a case of getting a black pen and going, 'there, there and there'."
A barrister for the MoD said personal files on those involved in the incident were "voluminous", and it was taking time to hand them to the coroner in an easily-accessible form.
The coroner set 30 January as the date for a new preliminary hearing.