Ford backs Forensics NI over 'shoestring delays' claim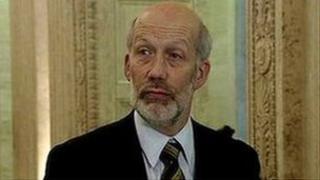 The justice minister has defended Northern Ireland's forensic science services after a High Court judge claimed they were operating "on a shoestring".
Mr Justice Weir said on Wednesday that test delays were "unacceptable".
He was speaking about an alleged £150,000 cocaine seizure in August that will not be confirmed as the drug until tests are completed in January.
However, David Ford said that forensics cases had to be prioritised.
In court in Belfast, Mr Weir said the situation where experts at Forensic Science Northern Ireland's laboratory refuse to accept any more police exhibits after reaching their monthly quotas, was "unacceptable".
"The idea that the forensic laboratory barricades its door in the middle of the month because it has done all the work it is paid to do is absolutely unacceptable," he said.
"It's about (time) the press carried out some sort of investigation into this and wrote some article about it."
Referring to the cocaine case delays, Mr Justice Weir said: "You can't just pile people up in prison while the department looks for money to pay for forensic services to take drugs in to analyse them.
"The minister talks about fast-tracking justice... Well I think he might look closer to home."
Speaking on BBC NI's Good Morning Ulster on Thursday, Mr Ford said that Northern Ireland experts were involved in the "best possible science" and were "ahead of the game" in forensic science across the United Kingdom.
"He (the judge) used some fairly colourful language," Mr Ford said.
'No easy promises'
"On an annual budget of £11m which went up by £500,000 last year, it is hard to call that a shoestring."
The justice minister said: "There are difficulties in every aspect of public life and prioritisation has to be made.
"What we have to do is ensure that the really good work on science is matched by the best possible management techniques and is done as speedily as it can be.
"The important thing about the forensic lab is that they get the science right."
He said he did not have the details about the specific cocaine case referred to by Mr Justice Weir, but added that while the department wanted to do good work as quickly as possible, they could not do work for which there was no funding.
"I am concerned that we would do the best we can but there are no easy promises to be made when we are facing the financial difficulties that every part of government is facing," he said.
"He clearly has a point about the case he was speaking about, but we have to acknowledge that cases have to be prioritised, that the most serious offences have to be taken first at times and other things go back in the queue."
Mr Ford said in the past he had met Mr Justice Weir and other judges to discuss speeding up the legal system in Northern Ireland.