New Visit Belfast centre officially opened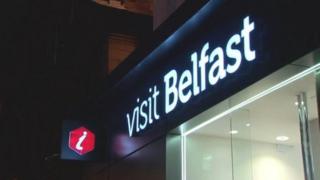 A new Visit Belfast Welcome Centre is to be officially opened later on Thursday.
The centre, which cost £1.82m, will replace the former tourist information office and is situated opposite the city hall.
Belfast Lord Mayor Máirtín Ó Muilleoir said it was a "red letter day" for the city.
"Probably the greatest visitor centre in Europe, it's certainly very hi-tech, it's accessible," he said.
"It's right on the doorstep, people are going to arrive in the city on buses and come right in here and access all the wonders that Belfast has to offer.
"When you go into a really great city you want to get a really great welcome and you want to get a sophisticated, 21st Century welcome."