Prof Philip Lamey: Witness statement 'tainted by hindsight'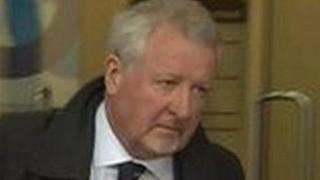 A statement from an "aggrieved" cancer sufferer's relative to a negligence hearing was "tainted by hindsight", the General Dental Council has been told.
A lawyer acting for Prof Philip Lamey said prosecution evidence based on the recall of appointments after a number of years, was not accurate.
Prof Philip Lamey faces 46 charges of misconduct.
His counsel said in comparison to the dentist's records at the time, some of the witness testimony was unreliable.
One hundred and thirty five of Prof Lamey's patients at the School of Dentistry at the Royal Victoria Hospital in Belfast had to be recalled after 35 of his patients developed cancer - four of whom eventually died.
His counsel asked the panel in London: "If anyone looked back to their appointment with their GP six months, a year or two years ago, what can they remember was said?"
She was giving her submissions to the GDC's Practice Panel, where the regulator has heard evidence on 33 patients.
They heard how a 78-year-old woman, known as Patient Three, had developed cancer in her mouth.
Witness statements
The GDC alleges that Professor Lamey failed on 12 counts to provide adequate care for the woman between December 2008, when she first raised her concerns about an ulcer on her tongue, and October 2009.
They focused on whether the woman was offered a biopsy of a lesion in her mouth at an early enough stage.
However, the panel was told that witness statements made by the woman's daughter, known as Mrs F - which suggested the woman was not offered a biopsy in the early stages of her treatment - were at odds with records written by Professor Lamey at the time.
The dentist's records showed a note from an appointment in May 2009 read: "I offered a biopsy but she declined".
His counsel said: "The beauty of contemporaneous records is they are made before anybody's memory fades and before the influx of hindsight."
She added: "People who are upset or aggrieved with a matter describe matters in a way that fits their preoccupation."
She said the daughter's testimony was an example of people "rewriting their memories with regard to what happens subsequently... her memory is selective and rewritten with hindsight."
The regulator also claimed that an early follow-up appointment to her initial concerns about an ulcer in her mouth was not arranged within a three-week window.
They said that the appointment became a phone call, without a physical examination.
But the timing of the appointment was in the run-up to Christmas.
Prof Lamey's records, written at the time, showed that an appointment was offered, but not made.
His lawyer also gave details of Prof Lamey's extensive experience, spanning almost 40 years, as a dentist who took a "belt and braces" approach.
The panel heard how he held three degrees in dentistry, pharmacology and medicine and was the president of the British Society of Oral Medicine.
The hearing continues.