Belfast Tesco manager 'grabbed by testicles'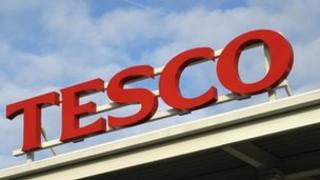 A fisherman grabbed a Tesco manager by the testicles and refused to let go after being stopped over an £800 shoplifting spree, a court has heard.
Members of the public had to help release his grip as the victim suffered "extreme pain", prosecutors said.
Bail was refused to the man accused of the attack outside the store on Belfast's Newtownbreda Road last week.
Samuel Boyd, 37, of Portallo Street in the city, faces charges of going equipped for theft, assault and theft.
It was claimed he went into Tesco on 5 December, took security tags off various goods and put them in bags.
A prosecution lawyer said one of the store managers and security watched him on CCTV throughout the incident.
Mr Boyd allegedly then left without paying for the items totalling £864.
Staff gave chase and tried to restrain him at a set of escalators, the High Court was told.
The prosecution lawyer said: "He grabbed the manager by the testicles and squeezed hard, refusing to let go.
"This caused the store manager, as he recounted to police, to be in extreme pain."
At this point the judge in the hearing, Mr Justice Weir, commented: "That sounds credible."
'Wearing four jumpers'
The lawyer added: "Members of the public had to come to his assistance and help in the removal of contact with the store manager."
Mr Boyd was said to have been drunk and wearing four jumpers when arrested.
The court heard that prior to the incident he was working on a fishing boat sailing out of Portavogie.
A defence lawyer described what happened as "an unfortunate blot on an otherwise more positive landscape".
He confirmed his client intended to plead guilty to the offences.
Refusing bail due to the risk of re-offending, the judge suggested: "Maybe from the prison he could write a letter to the manager of the Tesco store expressing his regret."