Hillsborough Castle going under new management in 2014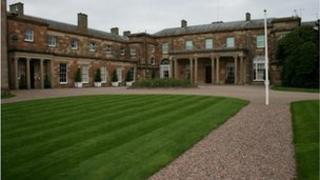 One of Northern Ireland's best known buildings will soon be under new management.
Since 1972, the Northern Ireland Office (NIO) has been responsible for the day-to-day running of the Hillsborough Castle estate.
From next year, Hillsborough Castle will be run by the charity, Historic Royal Palaces.
The government said it would operate on a more cost-effective basis, reducing the cost to the taxpayer.
Last year, it cost just over £1.5m to run the castle, according to a Freedom of Information request from the BBC.
'Glorious gardens'
Hillsborough Castle is a listed building. It was the principal seat in Ireland of the Marquesses of Downshire for more than 200 years and passed into public ownership in the 1920s.
The castle will remain the Royal residence in Northern Ireland and continue to provide residential accommodation for the secretary of state.
Historic Royal Palaces is an independent charity that looks after the Tower of London, Hampton Court Palace and Kensington Palace.
Secretary of State Theresa Villiers, who announced the plans, said: "Hillsborough Castle has a unique place in the history of Northern Ireland and the government is determined to ensure that its potential is fully realised.
"This is an exciting new chapter in the history of Hillsborough Castle as both a working Royal residence and a great place for the public to visit."
Michael Day, of Historic Royal Palaces, said: "We look forward to bringing our experience in managing historic properties, such as the Tower of London and Kensington Palace.
"Historic Royal Palaces is delighted to be working with the Northern Ireland Office to explore how Hillsborough Castle, with its fascinating history and glorious gardens, can be opened up for the benefit of the wider community."
The castle's transition will being in April 2014. Many of the changes will not take effect for two or three years.