NI economy: Bank lending difficulties can be "overplayed" as risk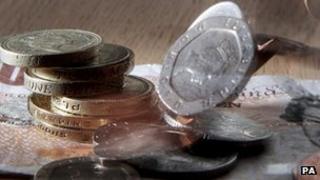 The chair of Stormont's Economic Advisory Group (EAG) has said that difficulties with bank lending "can be overplayed" as a risk to the Northern Ireland economy.
Kate Barker was giving evidence to a parliamentary inquiry.
It is examining the structure of the industry.
Previous hearings have heard claims from the CBI that the banking situation was the "biggest risk" to the economy as it moves into recovery.
The CBI said that while banks are lending, they are also grappling with significant legacy issues relating to bad property debt.
Mrs Barker said that while the supply of finance is very important, the continuing uncertainty in the eurozone is a bigger risk.
Risks
Mrs Barker is a leading economist and former member of the Bank of England Monetary Policy Committee.
The EAG acts as advisory body to the Northern Ireland Executive and has examined the problems small and medium business have in getting access to finance.
She said the eurozone was "not out of the woods" and presents particular risks to Northern Ireland given the substantial amount of trade it does with the Republic of Ireland.
Mrs Barker also said that lending to small and medium businesses in recent years had "been a very risky business", but that as the recovery starts, it will becomes less risky and she would expect banks to respond.
The banking inquiry is looking at the way banks are run, how they provide finance to small and medium sized businesses, and access to banking in rural communities.