Bowel cancer: Queen's University to lead Euro-wide research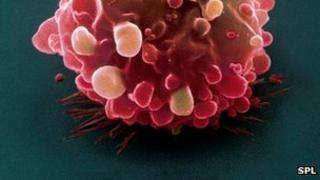 Queen's University in Belfast is to lead a 6m euro (£5m) European study to find new treatments for bowel cancer.
The research, that involves eight different countries, will look at two major genetic factors which make bowel cancer difficult to treat.
Bowel cancer, also known as colorectal cancer, is the second major cause of cancer deaths.
It is the third most common cause of cancer in Europe, with more than 200,000 deaths per year.
Currently more than 50% of colorectal cancer patients develop an aggressive form of the disease that spreads quickly and does not respond to standard therapy.
Patients' survival for more than five years after diagnosis of this form of colorectal cancer is less than 5%.
The new research is led by Queen's University and funded by the European Commission.
It will build on recent studies that have increased the understanding of what goes wrong in the colorectal cancer cell.
The new study is aiming to develop new diagnostics and therapies through research which will include a clinical trial of more than 1,000 people.
Dr Sandra van Schaeybroeck of the Centre for Cancer Research and Cell Biology at Queen's, said: "Our research has identified two key genes that are contributing to the aggressive spread of colorectal cancer.
"The research being carried out... will allow us to bring this research to the next level by developing and conducting a clinical trial that targets the products of these two genes in patients with metastatic or aggressive colorectal cancer."
The University of Oxford is also involved in the trial.
'Incurable disease'
Prof Tim Maughan from Oxford has led a number of key clinical trials programmes in colorectal cancer.
He said: "This is an important study which has the potential to develop new approaches to treat patients who have what is essentially an incurable disease.
"Bringing together world leading researchers from across Europe has the potential to make important developments in the war against this very aggressive form of cancer."
Researchers from the UK, Ireland, Spain, Belguim, France, Italy and the Czech Republic are involved in the study.