Commissioner Kathryn Stone to assess NI Victims Service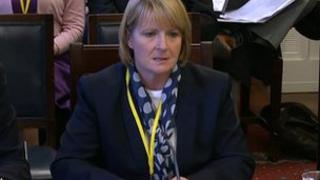 The victims commissioner has been asked to assess a new victims service which she accused of re-traumatising some people who contacted it.
Kathryn Stone said that since she criticised the Victims and Survivors Service before a Stormont committee in October, there had been an improvement.
However, members of the Victims Forum, have made further criticisms.
Among them, a woman, who accused the service of being "unresponsive" to suggestions made to it.
Eibhlin Glenholmes was once described as one of the most wanted IRA suspects in Britain.
Her comments were made as members appeared before the Office of the First and Deputy First Ministers (OFMDFM) committee at Stormont on Wednesday 11 December.
Ms Glenholmes, who was shot when she was 16, claimed questions remained unanswered almost a year after issues had been raised about the service regarding the discretionary awarding of funding, its complaints procedure and the recruitment of adequately skilled staff.
Another member of the forum, Jennifer McNern, who lost both legs in the IRA bombing of the Abercorn restaurant in 1972, said some victims had been asked to obtain three separate quotes for new wheelchairs - a practice described as "unacceptable" by a department official.
She told the committee: "We had to travel to three different suppliers and have fittings at three. That takes quite an amount of time and it is quite undignified to have to have to go round different places and explain your story.
'Unacceptable'
"We argue that it is not the way victims and survivors should be treated in this day and age."
She said victims felt "less time and resources should be spent on policing expenditure and more time on helpful and productive meetings with victims and survivors in order to find out more about their needs."
She also said that some victims had been asked to supply three months worth of bank statements for everyone living in their home and, in some cases, to provide birth certificates.
An official from the OFMDFM department, Ricky Irwin, said the situation was "unacceptable" and a number of "operational changes" had been made that meant the burden of proof was no longer on the victim.
Committee chairman Mike Nesbitt, the Ulster Unionist leader, asked him: "When historians look back at the devolved government of 2013, do we really want them to define what we've done by the fact somebody who needs a new wheelchair has to go out and get three quotes themselves, pay for it themselves and then claim it back?"
The Victims and Survivors Service was set up in 2012.
Victims commissioner Ms Stone said she had been asked to carry out an independent assessment of the service by the first and deputy first ministers and report back in February.