NI households 'spend most per week on petrol in UK'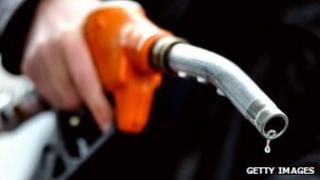 The average Northern Ireland household spends more each week on petrol than households in any other region of the UK, a new report suggests.
The Office of National Statistics (ONS) found that the average spend was £34.30 in Northern Ireland, compared to a UK average of £23.70.
However, the report suggests housing costs, including power bills, are the lowest in the United Kingdom.
The study put the total average weekly spend in Northern Ireland at £489.40.
This is just above the UK average.
Of that, £53.60 a week goes on food, £7.70 on alcoholic drinks and £31 on clothes.
People from Northern Ireland also spend £4.10 a week on bets, compared to a UK average of £2.90.
However, they are not the most successful punters: a section titled "windfall receipts from gambling etc", shows an average income of £1.50 a week, which is the UK average.
Other details include the suggestion that only households in London spend more on eating out.
Northern Ireland households are also the top spenders on potatoes, soft drinks and cigarettes.
The ONS report analysed the spending habits of about 1,100 people in Northern Ireland between 2010 and 2012.