Man crushed trying to stop thieves in County Donegal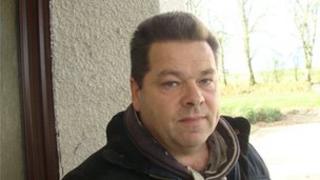 The brother of a County Londonderry man, who was crushed between two cars when thieves tried to steal his lorry, has said he is "lucky to be alive".
Adrian McLaughlin, 53, of Drum, near Dungiven, was carried on the side of a car that then collided with another vehicle.
It happened while he was attending a family wake near Burnfoot, County Donegal, on Monday night.
Irish police said he suffered serious injuries to his legs, pelvis and chest.
Adrian's brother, Nigel, said his family were in a state of shock.
'Distressed'
"He was in for an operation and he seems to have stabilised reasonably well," Adrian told the BBC.
"We talked to Adrian's wife and she is pretty shocked. He has six children and they are all pretty distressed by it all.
"This has come as a terrible shock to the people in this close-knit community. We hope that Adrian will recover fully.
"How the vehicle was found, it doesn't come as a surprise that Adrian is in this condition.
"The people involved only think of themselves and don't have any contribution to make to society. They are degenerates."
The car believed to have been involved has since been found burnt out in Steelstown in Derry.
The mayor of Buncrana, Peter McLaughlin, witnessed the incident.
"To think that these boys didn't care about what they have done and were prepared to drive through or over anything that got in their way, is scary," he said.
"It's not too often you meet bad people, but these were bad people that didn't think about other people."
Supt Eugene McGovern, from Buncrana Garda station, said: "Fortunately, the man doesn't have any life-threatening injuries, but he suffered serious injuries to his legs."