NI abuse inquiries: Assembly committee to hear evidence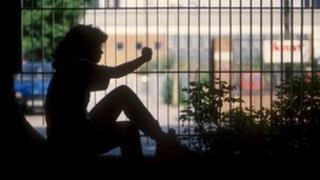 The assembly's health committee is hearing evidence from those leading inquiries into the abuse of young people in Northern Ireland.
The inquiries were launched in September after it was revealed that police had identified a group of 22 young people - aged between 13 and 18 - that may have been abused.
Of the 22 cases under examination, 18 involved children in the care system.
They had been recorded as missing a total of 437 times.
More than 30 arrests have been made as part of the police investigation.
The question being asked in the two inquiries is whether enough was done to protect children in care who were sexually exploited.
Case files
The former children's commissioner for Scotland, Kathleen Marshall, is looking at the extent of the problem and what needs to be done to protect young people.
The Safeguarding Board for Northern Ireland (SBNI) will look at exactly what happened to the victims, and what systems were in place at the time to protect them.
SBNI's chair, Sharon Beattie, told BBC Radio Ulster: "What we will be looking at are the case files of those 22 young people, we'll be reviewing what professionals have done to protect those children and young people.
"We will be carrying out a desktop study and we will be interviewing, where possible, the practitioners who have been involved in the cases of those young people."
When the inquiries were announced, the children's charity Barnardo's said young people in Northern Ireland has been let down by the system.
They published a report two years ago highlighting the problems of young people being sexually exploited.
Perpetrators
In September, the chair of Stormont's health committee, Maeve McLaughlin, said the health minister should take responsibility for not acting on the 2011 Barnardo's report, but Edwin Poots accused her of "misinformation".
Connection
He defended his department and said action had been taken to help vulnerable young people.
So far, those heading the inquiries do not think there is organised exploitation or a paedophile ring operating in Northern Ireland, but they have not ruled out a connection between the young people or the perpetrators in the some of the cases.
Although 22 is the number of confirmed victims, the health committee was told back in September that the real figure is likely to be much higher.
The SBNI said all 22 victims were in care at the time, but there are many other young people living in their own homes who have also been drawn into the exploitation inquiry.
A number of questions are being posed to the public, in a drive to get more information for the police inquiry, including:
Was there a party house in your street?
Do you see different young people coming and going?
Those questions apply to hotels and guesthouses as well.
Ms Beattie said those involved in the inquiries wanted to raise greater awareness of the problem of child sexual exploitation.
She listed some of the warning signs to help members of the public recognise when a young person is at risk.
She said they included:
Children going missing or returning home or to care late
Young people being agitated or stressed before they go out
Young people returning distraught or untidy, or under the influence of substances
A young person having a significantly older boyfriend or friend, or lots of new friends
Appearing to have more money, clothes, or mobile phones without an explanation
Becoming more secretive
"As a parent, carer, member of the community, you have an important role in protecting young people from this horrific form of child abuse," Ms Beattie said.
The rest of the hearing on Wednesday will look at the parameters of both inquiries, which should be completed late next year.