Peter Robinson 'not averse' to Troubles immunity plan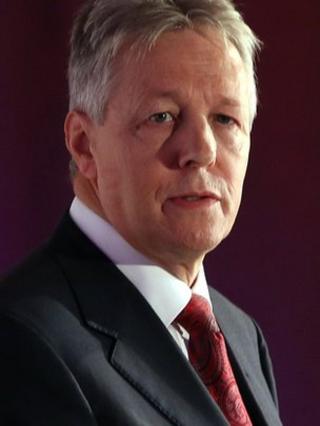 NI's first minister has said he is not averse to considering proposals offering immunity in return for information on Troubles murders.
Peter Robinson was responding to reports that Richard Haass said various incentives for uncovering the truth were up for discussion at his talks.
But Mr Robinson said his party would oppose any amnesty.
Dr Haass is hosting talks in Northern Ireland aimed at resolving disputes over flags, parades and the past.
He said there was a "sense of urgency" about the discussion he is holding with each of the five biggest political parties.
On Monday, Dr Haass told a news conference that "dealing with the past presents a very detailed and intricate set of issues".
He added: "Balancing it and trying to get as full a picture of what really happened is obviously in everyone's interest.
"What sort of incentives of mechanisms we might use, again will be on the table this week."
On Tuesday, Mr Robinson, the leader of the Democratic Unionist Party, said: "I think we need to look at what he's saying by way of immunity - is that immunity for all time over those actions, or is it a limited immunity, such as we have for instance with the decommissioning legislation?
"I think we'll look at what the proposition is and judge it when we see the detail."
The US diplomat is determined to bring the talks to a head by the end of the year, and ideally before Christmas.