William 'Mo' Courtney denies threat charges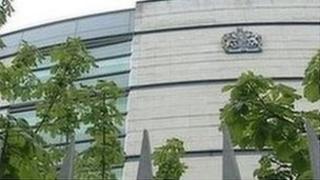 Leading loyalist William 'Mo' Courtney has appeared in Belfast Magistrates' Court charged with threatening to kill victims campaigner Raymond McCord.
The 50-year-old is also alleged to have harassed Tracey Coulter, the daughter of murdered UDA leader Jackie Coulter, in the same incident in the Peters Hill area of Belfast.
Mr Courtney, of Fernhill Heights in the city, denies the charges.
He was granted bail but banned from any contact with either alleged victim.
Mr Courtney was also prohibited from going near the home of Ms Coulter.
Her father Jackie was killed during a loyalist feud in 2000.
The court heard claims that Mr Courtney directed an offensive remark and hand gesture at Tracey Coulter while she was in a car with Mr McCord on Monday.
Appearing in the dock, Mr Courtney spoke only to confirm he understood the charges of making a threat to kill and pursuing a course of conduct amounting to harassment.
He was arrested following the alleged confrontation.
Mr McCord, an outspoken critic of loyalist terror groupings since the paramilitary murder of his son Raymond Jr, had been travelling in a car with Ms Coulter.
It was claimed that as their vehicle stopped at a junction Mr Courtney walked past, gestured at Ms Coulter and swore at her.
According to police, Mr McCord then got out and exchanged words with the accused.
The alleged threat was made at this point.
Opposing his release, a police constable claimed Mr Courtney might interfere with the injured parties or commit further offences.
A defence lawyer said Mr Courtney strenuously denied both charges.
He said the harassment charge was based on a threatening phone call to Ms Coulter four months ago, which she claims came from Mr Courtney.
The court heard that Mr Courtney had repeatedly denied involvement, offered police his phone to examine and asked them to carry out voice analysis, the court heard.
His solicitor said that the alleged incident on Monday was not enough on its own to sustain a charge of conducting a course of harassment.
The district judge granted bail but she said that Mr Courtney was not to go near Ms Coulter, who lives a mile away from him.
Imposing a no-go zone, the judge allowed him to use transport on roads around the boundaries.
Mr Courtney, who must also report to police three times a week, was released on £500 bail to appear again in court on 7 January.