Boxing trainer Gerry Storey backs mental health campaign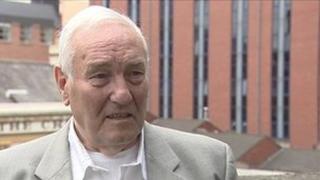 Belfast boxing trainer Gerry Storey is helping to front a campaign to raise awareness of mental health problems.
Almost one in five people show signs of a possible problem, according to the Public Health Agency (PHA) campaign.
It highlights the fact that those who have experienced feelings of anxiety, distress or despair can recover.
The campaign is one element of a programme to deal with mental health promotion and suicide prevention.
Mary Black, of the PHA, said: "Many people try to cover up the fact that they are feeling down or experiencing anxiety, distress or despair, and men in particular can find it difficult to open up.
Confidant
"Talking about your feelings to someone you trust, whether it's a friend or family member, or a GP, charitable organisation or a support service such as Lifeline, can be the first step towards recovery.
"It takes strength to talk about having a mental health issue, but as in the old adage 'a problem shared is a problem halved', opening up about your feelings can make all the difference."
The campaign features a man who thought that he could deal with his problems himself, but then realised that he should talk about it, and as a result started to feel better.
It stars Gerry Storey, who plays the role of the man's confidant.
Stormont Health Minister Edwin Poots said men were often unwilling to ask for help when they are experiencing problems or emotional distress.
"Bottling up these harmful emotions is the worst thing that we can do and invariably makes matters worse," he said.
"The Public Health Agency and local mental health organisations are actively working together to promote a culture of help-seeking, whilst at the same time attempting to address the stigma that is still, unfortunately, associated with mental ill-health.
"This is vital because, as a society, we need to be more aware that mental health and physical health are inextricably linked and that maintaining positive mental health is just as important as maintaining good physical health."