Prof Philip Lamey told woman with cancer her tumour was benign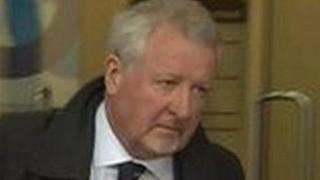 One of Northern Ireland's top dentists reassured a woman with mouth cancer that her tumour was benign, a hearing has been told.
Prof Philip Lamey diagnosed frictional keratosis, despite the patient being a smoker.
Prof Lamey faces 46 charges of misconduct.
The General Dental Council in London heard Prof Lamey then failed to arrange a follow-up appointment in time to review the woman's condition.
It was later revealed to be cancer.
Prof Lamey faces charges of clinical negligence relating to 33 patients.
One hundred and thirty five of his patients at the School of Dentistry at the Royal Victoria Hospital in Belfast had to be recalled after 35 of his patients developed cancer - four of whom eventually died.
Prof Lamey faced two charges for his care of the patient in question - for failing to make any follow up appointments and failing to maintain adequate clinical records.
'Traumatic ulceration'
On Tuesday, counsel for the General Dental Council's (GDC) Practice Committee summarised Prof Lamey's patient notes, saying to the court: "It refers to traumatic ulceration, patient reassured of the benign nature of this."
The lawyer said that a check-up could have been carried out by anyone in primary care, although no arrangements were made.
Prof Stephen Challacombe had gone before the court as an expert witness for Prof Lamey.
Counsel for the GDC criticised evidence given by the witness, suggesting he had read into Prof Lamey's notes "too closely."
He claimed there was a "danger of an expert witness reading too much into the records".
In written evidence, Prof Challacombe had defended some of Prof Lamey's decisions not to carry out important biopsies on cancer patients.
However, this position changed under scrutiny in the court.
The case was adjourned and the summing up will continue on Wednesday.