NIE considers legal action against Competition Commission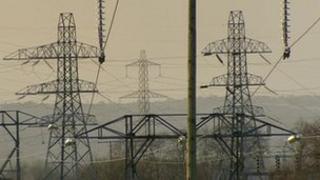 Northern Ireland Electricity (NIE) has suggested it could take legal action against the Competition Commission over a decision to prevent it raising prices by as much as it had wanted to.
NIE controls the power grid in Northern Ireland.
Its charges account for about 20% of a typical household electricity bill.
It wanted to raise bills by about £25 a year up to 2017, however, in November the commission ruled that the increase should only be around £5 a year.
In a detailed response, NIE has now described parts of the commission's ruling as "manifestly flawed".
It adds that unless the "errors and deficiencies" are corrected the ruling would be "open... to successful challenge in judicial review proceedings".
NIE claims the ruling will not allow it to earn enough money to provide a "safe and reliable system of electricity supply".
It specifically warns that the ruling risks leaving some rural customers with an "unacceptably high risk of prolonged interruptions to their supply in periods of extremely bad weather".
Unfair demands
The firm also claims that the ruling is in part based on out-of-date information and what it calls "simple spreadsheet errors", concluding that the ruling is "tainted by serious errors and deficiencies of assessment".
It also claims the ruling makes unfair demands on NIE's parent company, the Dublin-based ESB.
It says that the commission seems to expect ESB to "provide additional capital with no prospect of a fair return".
NIE says that it believes there is an opportunity for the commission to "correct these deficiencies" in its final report which is due in February.
The firm also raises the prospect that the final report may have to be delayed to allow the commission "additional time in reaching well-founded conclusions".
The commission made its ruling on NIE after the power company fought a long battle with Northern Ireland's Utility Regulator.
NIE wanted to increase substantially the amount of money spent upgrading its infrastructure.
However, the regulator said the plans would add too much to bills and then referred the matter to the commission.
NIE had been strongly critical of the regulator on the issue, but the commission imposed an even tougher settlement compared to what the regulator was offering.