Ulster Bank postpones finance committee questions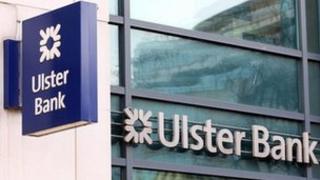 Ulster Bank has asked for a postponement of an appearance before MLAs to face questions over last week's computer problems.
Stormont's Finance and Personnel Committee had requested a briefing from executives on Wednesday.
The bank has asked for the session to be rescheduled.
It said this was to allow an investigation to be conducted into what went wrong by its parent company, the Royal Bank of Scotland (RBS).
The chairman of the committee, Daithí McKay of Sinn Féin, said the decision was "unfortunate, as it was an opportunity to provide assurances to customers".
An estimated 750,000 RBS, NatWest and Ulster Bank customers were unable to use their credit and debit cards for three hours on 2 December, and could not access their accounts online.
The RBS group apologised and said it would compensate those left out of pocket.
"Ulster Bank has indicated to the finance committee that it would welcome the opportunity to update its members on this issue," a statement from the bank said.
"However, it would be more informative if this was scheduled once all material information is available to allow a meaningful discussion.
"We have therefore requested that our next appearance is postponed until this is available."
This is unlikely to be before next year.
"We would have preferred the bank to have appeared this week," said Mr McKay.
"We do not think it is ideal to leave it until the New Year but we look forward to the session when it happens.
"There is a confidence issue as far as the public is concerned and in coming before the committee early it could have addressed that."