Audit office criticises Sport NI over school project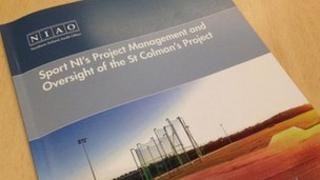 A NI Audit Office report has found fault with a government body over a £2.4m sports project in Newry, County Down.
The report said the cost of facilities at St Colman's College was underestimated.
It also said that oversight by Sport NI was poor.
Major changes to the design, including downgrading the athletic track and pitches, were made after "affordability issues" arose.
Although Sport NI identified several issues with the business case, "it failed to ensure these were addressed".
The report also found key decisions were taken by the college without consultation with the funders.
Sport NI provided £1.4m of taxpayer capital, while Newry and Mourne Council and the Department for Social Development contributed a total of £900,000.
The Audit Office became involved after a journalist raised concerns about the accuracy of information in the business case.
It said Sport NI failed to properly investigate those concerns.
Auditor General Kieran Donnelly said the facilities - which opened in 2011 - were "innovative".
However, he said any project that gets government funding must be based on an accurate business case and have appropriate management.