Councillor David Browne: 'Pandemonium' at Belfast A&E units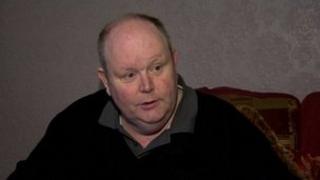 A politician who spent 16 hours lying on a hospital trolley waiting for a bed has described the situation in two of Belfast's A&E units as "pandemonium".
Councillor David Browne was admitted to the Mater Hospital on Wednesday night.
At about 16:00 GMT the next day he was transferred to the Royal Victoria Hospital, but left after three hours without getting a hospital bed.
Meanwhile, NI health authorities have failed to provide data to the BBC on ambulance waiting times at A&E units.
Under the Freedom of Information Act, the BBC submitted questions to health authorities across the UK, asking for figures on the length of time that patients had to wait in ambulances before they were admitted to emergency departments.
Information was submitted by health authorities in England, Scotland and Wales but Northern Ireland and the Isle of Wight failed to provide figures.
Severe pain
Mr Browne, who is a former deputy lord mayor of Belfast, has been an Ulster Unionist councillor in the city for 20 years.
He was admitted to the Mater Hospital at about midnight on Wednesday, suffering from severe pain caused by gall stones.
After an initial assessment, he said he was told he would have to be transferred to the Royal Victoria Hospital because "all surgical functions had been removed from the Mater".
"I lay all day and some of the sights I saw were indescribable, some people coming in," Mr Browne told BBC Radio Ulster.
"I lay until approximately four o'clock the next day, when the sister came up and said 'Look Mr Browne, we're moving you to the Royal'."
The councillor said the Mater ward sister was "totally honest" with him and explained that no beds were available in the RVH at the time.
'Absolutely wrecked'
"So I went up to the Royal and sat on a chair, not on a trolley this time, on a chair," Mr Browne said.
"When I came in the door I was greeted with 15 to 20 people lying on trolleys.
"My heart just completely sank through the floor because, they were people who had already been processed, so I knew that I wasn't going anywhere until they were sorted out," he added.
The UUP representative said he was assessed by a surgical team in the RVH at about 19:00 GMT on Thursday.
He said the medic who treated him explained that he would have to sit on the chair until a bed became available, and it could be several more hours before that happened.
"I said look, my body is absolutely wrecked here, because I normally take probably 20 tablets a day, I take eight strong painkillers."
'Impossible position'
Mr Browne decided that he could not wait on a chair overnight so he left the hospital and went home.
When asked to explain why he had described the situation in both A&E units as "pandemonium", he said that while he waited for a bed he watched staff "running back and forward trying to manage an impossible position".
The councillor praised the hospital staff who tried to treat him, describing the nurses and doctors in both hospitals as "marvellous."
But Mr Browne added he was very concerned that there was such pressure on hospital beds, considering that it was a mid-week night with mild weather conditions.
"If you imagine that there was a major freeze or major flu epidemic, but more so a freeze where there are lots and lots of people who have to have surgery because of breaks, honestly, I really mean it, I am terrified of what the situation could be."
Both the Mater Hospital and Royal Victoria Hospital are run by Belfast Health Trust.
In a statement, a spokesperson for the trust said: "We are very sorry that councillor Browne had to wait for treatment last week.
"Our emergency departments are very busy at the moment and our staff in them work tirelessly to see and treat people in as timely a manner as possible."