MPs' pay rise opposed by NI representatives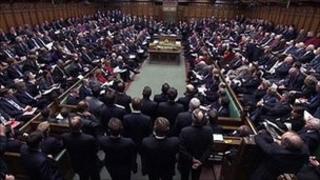 Plans to award MPs an 11% pay rise in 2015 have been opposed by all Northern Ireland MPs.
Parliamentary watchdog Ipsa is set to recommend a rise of £7,600 to £74,000, to come in after the election.
The DUP said it would refuse the pay rise, if it is forced through and Alliance MP Naomi Long described the proposal as "poor timing".
The SDLP and Sinn Féin are also against the increase. Independent North Down MP Lady Sylvia Hermon has called it daft.
The rise comes as part of a package of changes to MPs' salary and benefits which would see some allowances scrapped.
MPs currently earn a basic salary of £66,396 but the Independent Parliamentary Standards Authority is expected to say on that their pay has fallen behind in recent years and a substantial "one-off" rise is justified.
Ipsa does not need to get the agreement of Parliament to bring in the changes.
The SDLP said it did not support a rise in MP's salaries "in this time of austerity".
"The SDLP believes that any increase should be in office allowances to allow for a better constituency service rather than a salary increase that goes directly to MPs, " the party said.
Sinn Féin is against the rise, though they do not draw salaries as they do not take their seats at Westminster.
A spokesperson for the DUP said: "DUP MPs will be refusing the pay increase if it is forced through."
East Belfast MP Naomi Long said she was "completely opposed" to any planned salary increase for MPs.
"I am previously on record voicing my concern over this move, particularly given its poor timing," she said.
"While this is not due to come into effect until after the next election, it remains unclear how and if it will become a reality as the three main parties at Westminster - along with all Northern Ireland MPs - are against the decision."
North Down MP Sylvia Hermon, formerly a member of the Ulster Unionist Party, but now sitting as an independent, said the rise was "daft, daft and very daft".
"It's indefensible in the current economic climate and I certainly couldn't accept it if I were to be re-elected in 2015," she said.
Meanwhile, Bumper Graham from the NIPSA trade union said it was "wholly unacceptable" in the current situation.