David Ford introduces new law on excise evasion sentencing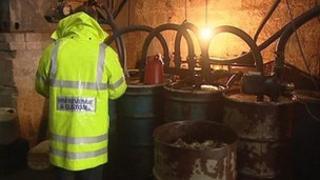 New legislation will allow unduly lenient sentences for fuel and tobacco excise evasion to be appealed.
Northern Ireland Justice Minister David Ford has introduced the measure.
No-one has been jailed for fuel laundering in 11 years, despite more than 100 operations against illegal fuel laundering plants since justice powers were devolved.
Mr Ford said concerns had been raised with him about sentences not reflecting the seriousness of the crimes.
"This is not just about the loss of money to the government. It is also about the wider impact of such crime," he said.
Mr Ford was speaking while visiting a laundering plant in South Armagh. Customs and Revenue officials believe it was capable of laundering 19m litres per year.
The new legislation adds excise evasion on fuel and tobacco to the list of offences on which the director of public prosecutions (DPP) can refer a sentence considered to be unduly lenient to the Court of Appeal.
Mr Ford added: "Criminals involved in fuel laundering and tobacco smuggling are damaging our environment, impacting on legitimate trade and putting the health and safety of people at risk.
"The organised crime gangs may also use their ill-gotten gains to fund other harmful activities such as drugs smuggling or human trafficking.
'Seriousness'
"We have seen successes recently by HMRC (HM Revenue & Customs) against gangs involved in this crime. I know that they will continue to target these groups and to seek to bring them to court.
"When they do I hope the sentence will reflect the seriousness with which I view the offence.
"If not then this legislative change will enable the director of public prosecutions to refer the case to the Court of Appeal."
John Whiting of HMRC said: "Tackling fuel fraud is a top priority for HMRC in Northern Ireland.
"In the last year we have seen a significant increase in the number of laundering plants dismantled and illicit fuel seized."