Dr Richard Haass back in Northern Ireland for more talks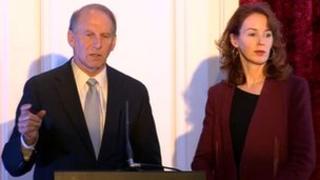 The man chairing political talks in Northern Ireland has returned to Belfast.
Dr Richard Haass is expected to make a final push towards a deal on flags, parades and the past.
The US diplomat is determined to bring the talks to a head by the end of the year, and ideally before Christmas.
He recently asked negotiators from the five main Stormont parties for their views on a series of detailed issues, including a potential new flag for NI.
It was not a firm suggestion from Dr Haass - he just asked a question about it.
But it prompted a negative response from unionists, with some viewing it as an attempt to dilute Northern Ireland's Britishness.
Obstacles
BBC NI political editor Mark Devenport said: "The recent furore over the attorney general's proposed end to Troubles-era prosecutions and the fall-out from the Smithwick report into the IRA murder of two RUC officers have not made it any easier for the politicians to find common ground when it comes to dealing with the past.
"The outgoing chair of the Parades Commission told the BBC on Sunday that bad leadership is to blame for young people being prosecuted over marching disputes.
"So there are plenty of obstacles ahead during the next crucial fortnight for the talks."
Dr Haass began his talks with political parties and voluntary and community groups in September.
So far, he and his team have held 100 meetings, met 500 individuals and received 600 submissions.
He is being assisted in his task by Harvard professor Meghan O'Sullivan, who is vice-chair of the talks.
Dr Haass served as US envoy to Northern Ireland from 2001 to 2003. He was chosen to chair the discussions by the first and deputy first ministers.