Children's heart surgery: Edwin Poots announces review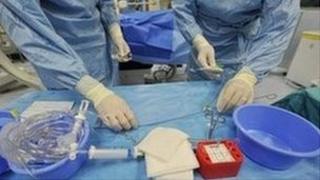 An international team of experts will assess the current and future needs for children's heart surgery in Northern Ireland and the Republic of Ireland.
The review has been commissioned by health ministers in both jurisdictions amid fears that Belfast could lose its children's cardiac unit.
In the meantime Dublin will continue to support Belfast.
Current arrangements will remain in place for at least six months while the review is carried out.
It is significant that it has been commissioned by both health ministers - Edwin Poots in the north and his southern counterpart, Dr James Reilly - an indication of just how positive and productive relations are between the men.
The international team will be chaired by Dr John Mayer, a consultant cardiac surgeon at Boston's children's hospital.
Third specialist
He will be joined by another expert from the USA. .
A third specialist has still to be named.
The review will examine the need for cardiology and cardiac surgery for congenital heart disease on an all-island basis.
It is to be completed and handed to both ministers by June next year.
Mr Poots announced the review in the assembly on Monday.
Belfast's lead surgeon Prof Freddie Woods retires this week.
There will only be one remaining paediatric surgeon at the Clark Clinic in the Royal Belfast Hospital for Sick Children.
Therefore, Belfast will be relying on surgeons from Dublin to keep the surgical unit in Belfast open.
Northern Ireland health officials have been trying to devise a rota that would include surgeons who work at Our Lady's Children's Hospital in Dublin.
'Not weakened'
Under that arrangement, surgeons from Dublin would have to agree to travel to Belfast at least one day a week.
Sinn Féin's assembly health committee chairwoman, Maeve McLaughlin, described the move as "a step in the right direction".
"For too long now, families have had to travel to England at great expense for themselves at a time which is difficult enough for their lives and the lives of their children," she said.
"The families now need guarantees that, in the interim, any child that needs to have surgery will be able to avail of that in Belfast."
The SDLP's Fearghal McKinney said it was positive that, in the short term, paediatric cardiac surgery would be retained in Belfast, assisted by expert medical help from Dublin.
"However, he (Edwin Poots) must now ensure that the quality of service by the presiding medical team in Belfast is not weakened during this interim period."
Ulster Unionist MLA Robin Swann said: "We thank the minister for establishing a team of clinicians, rather than managers, for the assessment.
"While this wasn't the announcement many expected, or wanted, today, it is positive that we are another step closer to reaching a final decision on the future of paediatric congenital cardiac services in Belfast."
Children's Heartbeat provides support to Northern Ireland families affected by heart disease in children.
The group said: "We welcome the minister's announcement that an all-island assessment of children's heart surgical service has been commissioned and which is specifically tailored to address the needs of children and adults with congenital heart disease in Northern Ireland."