Nelson Mandela death: McGuinness hopes to attend funeral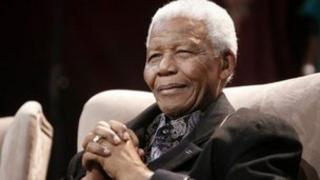 Northern Ireland's deputy first minister has said he hopes to attend the funeral of the former South African President Nelson Mandela.
Mr Mandela, who died on Thursday, will be given a state funeral on Sunday 15 December.
Politicians in Northern Ireland have been paying tribute to Mr Mandela and books of condolence have opened.
Mr McGuinness said it would be a "great honour indeed" to attend his funeral.
"We are working on that at the moment," he told the BBC.
"Our officials are examining, along with other officials from both the Irish government and the British government, how we can make that happen.
"I would certainly like to be there and, I think, every effort will be made to ensure we are represented.
"I think it is important that we honour and respect the memory of Nelson Mandela."
Support
Political leaders have acknowledged the former South African leader's contribution to the Northern Ireland peace process.
Mr Mandela had said his government fully supported the peace process in Northern Ireland and he hosted political talks in Cape Town in 1997.
Books of condolence been opened at Belfast City Hall and at the Guildhall in Londonderry.
Vigils are continuing across South Africa as thousands mourn his death.
Mr Mandela spent 27 years in jail before becoming South Africa's first black president in 1994.
His administration replaced the racist white-minority regime that had enforced segregation of black and white people in a policy known as apartheid.
He went on to become one of the world's most respected statesmen.