Shots fired at police in Belfast for second night in a row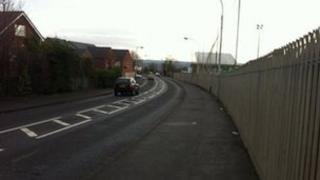 Police have come under gun attack in Belfast for the second night in a row.
Officers escaped injury when they were fired at in west Belfast on Friday evening.
Police said two shots struck a PSNI Land Rover on patrol on the Suffolk Road between the Stewartstown and Glen Roads at 23:45 GMT.
On Thursday evening, shots were fired at police vehicles in the Ardoyne area of north Belfast.
No-one was injured in either incident.
The PSNI's West Belfast District Commander Ch Supt George Clarke condemned those behind the attack.
"For the second night in a row, dedicated community police officers have found themselves under attack from terrorists," he said.
"It is fortunate that we are not dealing with fatalities this morning and those responsible are to be utterly condemned for their evil and reckless actions.
"These officers go out each day to serve this community and they should be free to do so without the threat of attack."
Police have appealed for anyone with information on the attack to contact them.
SDLP MLA for West Belfast Alex Attwood described the attacks as a "worrying trend".
He called on those engaged in violence to stop and recognise the hurt they were causing the community.
"This attack on the PSNI on patrol in west Belfast could have resulted in lose of life," he said.
"I condemn this attempt to kill police officers.
"Those engaged in this type of reckless violence are not advancing any political ideal, they are hurting the community they claim to represent."
DUP councillor Brian Kingston also condemned the attack.
"The intention, here, obviously was to kill or to seriously maim police officers carrying out their duties," he said.
"They are trying to drag society back into bloodshed that the vast majority of people do not wish to see."