NI passengers face further flight delays after glitch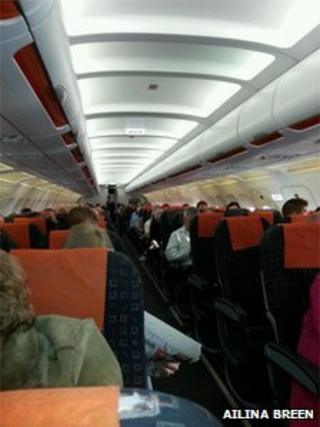 Passengers travelling to and from NI's airports could face further delays and cancellations after a telephone glitch at an air traffic control centre.
The National Air Traffic Control Service (Nats) said its internal phone system broke down on Saturday.
Thousands of passengers were stranded at UK airports. Flights in the Republic of Ireland were also affected.
The glitch was resolved at about 19:30 GMT on Saturday, but disruption is still expected on Sunday.
Nats has apologised to travellers affected.
Lisa Nugent was waiting for several hours at George Best Belfast City Airport to fly to London.
She was due to see a play in London at 12:30 GMT on Saturday.
"I fly over to London a couple of times a year, I like going to the theatre," she said.
'Disappointed'
"I booked a whole lot of plays to go to see all in the one go, so my play was starting at half twelve, it's the other side of London in Shepherds Bush, so even if my flight had left at twelve o'clock it would still take about an hour to get there anyway, so I wouldn't have made it.
"I'm a bit disappointed."
Neil Breen, who was travelling with his fiancée to Portugal to make wedding arrangements, was stuck on board a grounded plane at Belfast International Airport for an hour and a half before it took off.
"We were waiting on the flight, aware there's been quite a few delays, we were basically put on the plane and the information was delivered that we'd be sitting here on the runway for at least another hour," he said.
"I think everybody was just getting a bit antsy, they just want to get on with their holiday."
Passengers due to fly on Saturday were advised to check with their airline before travelling to the airport.
Ryanair warned there would be "significant flight delays and possible cancellations".
British Airways said the technical problems had already led to flight cancellations and warned that they "will cause delays to some flights". .