Lundy's Day: Thousands attend Apprentice Boys parade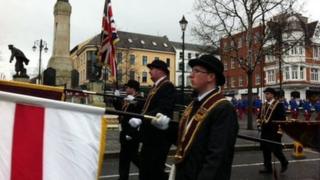 Up to 3,000 people have taken part in the annual Apprentice Boys of Derry parade.
The annual Lundy's Day event commemorates the 17th Century siege of the city.
It featured 31 bands this year, an increase of 10 bands from last December's parade.
The parade passed off without incident and has been described as a huge success by the Police Service of Northern Ireland.
Chief Supt Stephen Cargin said: "Today has been a really positive day for the city.
"We tried to make sure we got our policing style right today and have actually pulled back and made this as normal a policing day for shoppers and everybody in the city.
"I'm pleased to say that the partnership we've had with the organisers of the parade, the traders and the City Centre Initiative has worked really well."
Respect
The marchers made their way through the city centre before attending a service of thanksgiving at St Columb's Cathedral.
In keeping with tradition, an effigy of Lieutenant-Colonel Robert Lundy - the man known as Lundy the Traitor - was burned in Bishop Street.
Governor of the Apprentice Boys, Jim Brownlee, said he believed the city had made significant strides in promoting respect.