Michael Blaney and Raymond Kelly honoured in Newry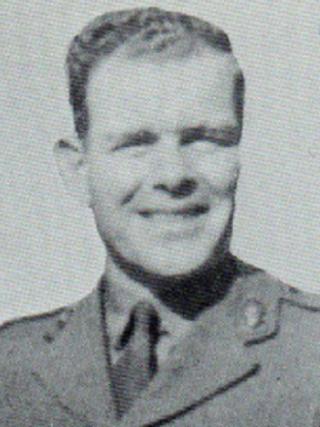 Two men who won the George Cross after giving their lives in individual acts of bravery have been honoured in their shared native city.
Plaques were unveiled at the former homes of soldier Michael Blaney and sailor Raymond Kelly, who were both from Newry, County Down.
Mr Blaney was a World War Two bomb disposal officer who died when a bomb he was trying to defuse exploded.
Mr Kelly was a merchant seaman who died while trying to save a drowning woman.
The blue plaques, which were erected separately at each man's birthplace, were presented by the Ulster History Circle.
It was the first time that the organisation had organised a double presentation in the same area.
Distress call
It is also believed that Newry is the only city to have produced two George Cross recipients who both won the award for individual acts of gallantry.
Thomas Raymond Kelly, known as Raymond, was awarded the medal posthumously in 1948.
The previous year, the 19-year-old sailor was working on board a cargo vessel when it was diverted to answer a distress call from the sinking SS Famagusta in the Bay of Biscay.
Mr Kelly rescued two men from a capsized lifeboat. He then entered the stormy waters for a third time, in a bid to save a struggling woman.
He managed to reach her, but the pair were hit by waves and both drowned.
The teenager was awarded the George Cross posthumously in February 1948.
Mr Blaney served as an Acting Captain in the Royal Engineers during World War Two.
Underground bomb
In the months leading up to his death in 1940, he had helped to defuse a number of unexploded bombs that the German army had dropped in east London.
On 13 December 1940, A/Capt Blaney was one of 10 men who were killed as they tried to lift and defuse a bomb that had fallen 12ft below ground in Manor Park, London.
He was awarded the George Cross in April 1941.
The George Cross medal had been introduced by the British authorities just three months earlier.
It was created at the request of Winston Churchill, to recognise the many acts of bravery performed by civilians during the Blitz.
The George Cross is the UK's highest gallantry award for civilians, but is also awarded to military personnel, usually for acts of bravery performed when not in the presence of the enemy.