NatWest cyber attack disrupted Ulster Bank website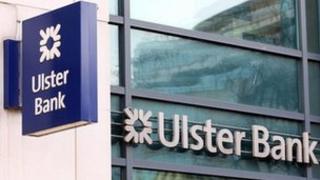 Ulster Bank's online services were disrupted for a short time on Friday due to a cyber attack on another member of the RBS banking group - NatWest.
NatWest was the victim of a "deliberate attempt to disrupt" its operations on Friday morning - known as a distributed denial of service attack (DDoS).
The disruption lasted about an hour.
An Ulster Bank spokeswoman said it did not affect its bank card or cash machine transactions and was not connected to Monday's IT failure.
She added that the Ulster Bank website disruption lasted for a "relatively short period".
Surge
No customer information was compromised as a result of the NatWest cyber attack and point of sale transactions were not affected, the Ulster Bank spokeswoman said.
The cyber attack took the form of a surge of online traffic and it began about 11:30 GMT on Friday.
It left some NatWest customers struggling to access online banking for about an hour.
The attack came just days after the RBS group issued an apology to customers for an unrelated computer glitch.
An estimated 750,000 RBS, NatWest and Ulster Bank customers were unable to use their credit and debit cards for three hours on Monday due to the IT failure.
The RBS group said that it would compensate those left out of pocket as a result of Monday's banking problems.