Anthony McDonnell jailed for having information of use to terrorists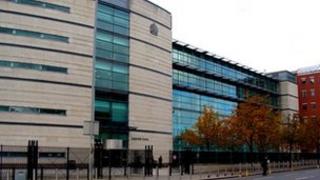 A man who pleaded guilty to possessing information likely to be of use to terrorists has been sent to prison.
The information in Anthony John McDonnell's possession included the car registration numbers of serving police officers and a prison officer.
He was also found to have a computer memory card containing an image of the contents of a soldier's wallet.
McDonnell, of Ardmonagh Gardens, Ballymurphy, west Belfast, was jailed for a year and nine months.
Belfast Crown Court heard he was arrested on 11 December last year following police searches at two properties in Belfast - at Avoca Court and Ardmonagh Gardens.
'Compelling'
Officers carried out further searches on a Peugeot car the following day and during the operations, they found information likely to be of use to terrorists.
Also found during the searches were details regarding a serving harbour policeman, as well as information on neighbours living opposite his home.
McDonnell, a father-of-six, pleaded guilty to five counts of possessing the information.
Addressing McDonnell as he stood in the dock, the judge said the evidence against him was "compelling" but accepted that "no people were injured as a result of this information".
As well as serving a prison sentence, McDonnell will spend a further year and nine months on licence upon his release.