John McDermott: Fermanagh man admits abusing ninth victim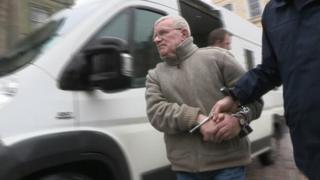 A man responsible for a "tidal wave of sexual assaults" in a County Fermanagh village has admitted abusing a ninth victim.
John McDermott, 63, from Moorlough Road in Donagh, is already serving a prison sentence for the abuse of eight children over a 35-year period.
He is due for release next year.
At Dungannon Crown Court, he pleaded guilty to four counts of indecently assaulting a teenage boy, having previously denied the charges.
Impact
The latest offences took place between 1997 and 2001 when the victim, who cannot be named, was a teenager.
The court was told the abuse took place in the back of a vehicle in which he was a passenger, sitting alongside John McDermott.
McDermott will be sentenced in January in order to allow his victim the opportunity to tell the court the impact the abuse had on him.
Three of McDermott's other brothers were originally charged with sexually abusing generations of children, but John McDermott is the only one to have stood trial.
James and Owen McDermott were deemed unfit to stand trial, while Peter Paul McDermott hanged himself at the start of his trial.
Earlier this year, the BBC revealed that a parish priest was also involved in the sexual abuse of some children in Donagh in the 1970s and 1980s.
Canon Peter Duffy, from County Monaghan, was an uncle of former Bishop of Clogher Joseph Duffy.