Business recovery in Northern Ireland 'gathers pace'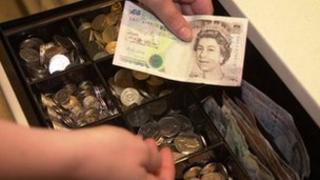 The recovery of Northern Ireland's private sector gathered pace in November, hitting its fastest rate of growth since 2004, according to a survey of businesses.
The Purchasing Managers Index (PMI) is a monthly survey of a panel of firms.
It tracks indicators such as new orders, employment and exports.
It showed five successive months of growth with November having the sharpest increase in new orders in almost 10 years.
The survey also suggested that some workers may finally be getting pay rises after years of falling real incomes.
The PMI data is produced by Ulster Bank.
Richard Ramsey, the bank's chief economist in Northern Ireland, said there had been a "marked acceleration" in business activity in November and that there were no signs that the pick-up in activity is set to fade.
"Looking at the growth in new orders suggests that this momentum is set to continue into 2014," he said.
"Last month, local businesses reported the sharpest increase in new orders in almost nine and a half years with this improvement evident across firms within the manufacturing, construction and services sectors.
"The latter posted the sharpest increase in new orders of all sectors with November representing the service industry's best month since the credit crunch officially began in August 2007."
The survey data also showed that while backlogs in work are rising, employment is only increasing at a modest rate suggesting employers are still cautious about taking on new staff.
However, there may be better news for people who are already in work as the survey pointed to higher salary payments as a factor which is driving a rise in output prices.