Phelim McNally jailed for 20 years for teen's murder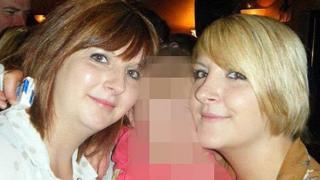 A County Londonderry man has been jailed for at least 20 years for murdering his ex-partner's sister in an "act of extraordinary wickedness".
Phelim McNally, from Station Park in Toomebridge, shot dead 18-year-old Lauren O'Neill in Bellaghy in May 2012.
Her sister, Brenda, 22, McNally's former partner and the mother of his two children, was seriously injured.
McNally admitted murder and attempted murder as his trial was about to begin last month.
He had already been sentenced to life imprisonment for murder.
He must serve a minimum of 20 years before he can be considered eligible for parole, a judge has ruled.
Mr Justice Treacy also imposed a prison sentence of 20 years for attempted murder.
The judge told the court: "It was an act of extraordinary wickedness in which he fired aimed shots from a shotgun intending to murder."
Mr Treacy described the murder victim as "young and completely defenceless with no means of escape".
"She was seated and using her phone at the time she was shot," he added.
"He intended to kill both Lauren and Brenda. The murder and the attempted murder both took place in full view of his two very young children.
Jealousy
"The cruelty and mercilessness of these actions have left a family physically and mentally broken."
The court heard that McNally had been in a relationship with Brenda O'Neill until about one week before the shooting.
The day of the attack, the court heard, he pointed his gun deliberately at Lauren, said nothing, but fired two shots directly at her.
She did not see this as she had been looking at her phone.
Lauren fell to the ground but got up and made it to the back door.
Without saying anything, the defendant turned to Brenda and shot her. She was injured in a arm and stomach.
Brenda described how their daughter called out "bad daddy" while he turned and walked out the front door.
During a later police interview, McNally described how he had got up early on the day in question to go crow shooting.
He accepted that he called with Brenda, found messages on her phone and went into what he called a "huff".
He said he loaded his gun with three new cartridges intending, he claimed, to go and do some shooting at the rear of Brenda's house.
However, the court heard that it was clear he decided to re-enter the house and to fire aimed shots at his two victims in front of his own children.
A pre-sentence report on McNally indicated that he had "difficulties with jealousy and control".