Nelson Mandela: How a reporter seized his moment
Sixteen years ago, at a crucial phase in the peace process, Nelson Mandela hosted sensitive talks involving Northern Ireland's unionist and republican leaders. The BBC sent Mark Devenport to Capetown where he managed to grab an impromptu interview with the then South African president.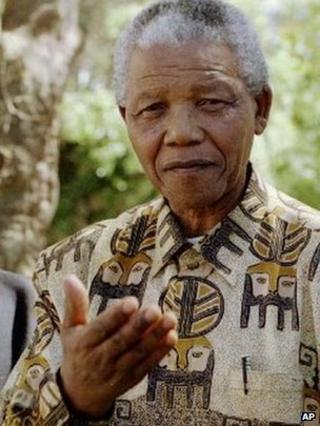 It was a reporter's nightmare. I had been asked to cover a round of talks but there was no way I could get near any of the participants.
It was May 1997. The IRA ceasefire had broken down the previous year. Unionists were adamant they would not sit down with republicans.
To make the meeting happen at all, the South Africans had to - ironically - operate a mini system of apartheid, laying on different flights, different buses and different accommodation.
The last thing they wanted were the prying eyes of the media, so the politicians were sequestered in a defence base surrounded by high fences.
Then a stroke of luck. The BBC had booked me into a brand new hotel on Capetown's Table Bay. As I wandered through reception the staff appeared to be rushing around in excited expectation. A marimba band was playing outside the entrance.
"What's going on?" I enquired. "Madiba!" the receptionist replied. "Madiba is coming to open our hotel!"
Chuckled
Talk about the mountain and Mohammed. We got in place for a quick doorstep. The great man arrived, and I shouted a question. With the band still playing, he motioned that he couldn't hear and carried on into the hotel.
We thought we had been given the brush-off but charged after Mandela, having to dodge and weave his increasingly annoyed bodyguards. They were expecting a few photographs and a nice lunch, not a news conference.
Then the Mandela entourage came to a halt in the hotel courtyard, to pose for photographs with the hotel owners. I crawled on hands and knees in front of the snappers, looking up pleadingly at the president.
Mandela spotted me and chuckled. I seized my moment and shouted my question. He politely asked me to repeat the question: he really was hard of hearing, not trying to avoid my enquiries.
There were no spin doctors and no prepared lines. But in his trademark slow courteous style, President Mandela demonstrated that he had a clear grasp of what he hoped the Northern Ireland talks might achieve.
"While it is difficult to predict what human beings and political parties are likely to do in the future," he told me, "what is significant is that they are here and that alone is a sign they are serious in searching for peace.
"We are reluctant to urge other countries to follow exactly the pattern that we have followed. But whatever help they want we will place it before them."
Giant
The next day Nelson Mandela travelled to the Arniston base to repeat his message about making peace with your enemies, not your friends, to unionists, nationalists and republicans.
Two months later the IRA restored its ceasefire. The South African intervention was not the main reason - the arrival of Tony Blair in Downing Street was a bigger influence - but it probably helped.
After finishing our reporting for the day, we ended up in a Capetown nightclub listening to a great African jazz band.
Just as we were starting to unwind, a tall muscular man approached me, gave me a firm one-fingered prod in the shoulder and said: "Hey, I've a bone to pick with you!"
How, I wondered, had I managed to get on the wrong side of this giant, and where was the exit door?
Then it clicked - it was Nelson Mandela's chief bodyguard.
After a few explanations and apologies for "bugging the hell" out of him, and a mutual exchange of beers, he forgave me and the camera crew for our tenacity.
The rest of the night was spent hearing tales of my drinking companion's hands-on role in an "armed struggle" far away from the conflict I was more used to covering, yet with intriguing contrasts and parallels nonetheless.