Peter Robinson says Gerry Adams' Smithwick comments 'offensive'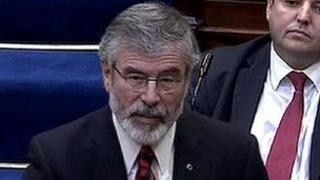 The First Minister Peter Robinson has said Gerry Adams should apologise for suggesting that two murdered RUC officers had adopted a laissez faire attitude to their security.
Ch Supt Harry Breen and Supt Bob Buchanan were shot dead in an IRA ambush in 1989 after returning from a meeting at Dundalk Garda station.
A tribunal found there had been Irish police collusion in the murders.
Mr Adams said his comments reflected the Smithwick report.
In the report of his inquiry published on Tuesday, Peter Smithwick said he was "satisfied there was collusion in the murders".
The Sinn Féin president made his comments during a radio interview on Wednesday in the Republic of Ireland.
Mr Robinson, who is in Japan on a trade mission with Deputy First Minister Martin McGuinness, said Mr Adams' remarks were "offensive".
"I would have thought that someone who would recognise that victims are hurting in all of these circumstances, to make such casual remarks, about the death of somebody by murder from people that he was associated with seems entirely inappropriate," he said.
"I just thought it was an appalling statement to make and he should regret making it and he should publicly apologise for it."
Mr Adams said he never intended to cause any further hurt to the two officers families.
He said it was nonsense to suggest he was blaming the officers for their own deaths.
Mr Adams said the evidence provided to the tribunal suggested that the senior RUC men seemed to think they were immune to attack.
The Smithwick Tribunal was set up by the Irish government in 2005 to investigate claims that officers based in Dundalk Garda (police) station had assisted the IRA gang that ambushed the two officers on 20 March 1989.