Belfast car bomb: Two men released unconditionally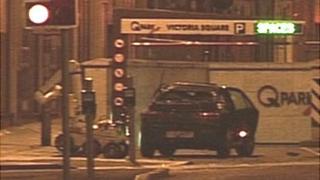 Two men who were arrested by police investigating last month's bomb attack in the centre of Belfast have been released.
The bomb partially exploded in a car at the entrance to Victoria Square shopping centre car park on 24 November.
The explosion happened as the Army prepared to examine the device.
The two men, aged 44 and 45, were arrested on Wednesday. Police said they have been released unconditionally.