School caretaker Mark Moan jailed over child abuse images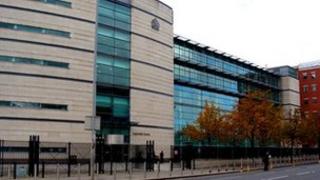 A Belfast school caretaker who was caught with almost 1,000 indecent images and videos of children has been jailed for nine months.
Mark Moan pleaded guilty to 14 counts of making indecent indecent images and seven charges of possessing extreme pornographic images.
Belfast Crown Court heard police found images of children as young as six being abused when they raided his home.
The 43-year-old's address cannot be published for legal reasons.
A prosecution lawyer told the court that PSNI received information in September 2011 that somebody at Moan's home in Belfast was involved in "making indecent photographs of children" through computer activity.
'Suspended'
She said that she could not divulge how police had uncovered Moan's activities but said that it was "connected to other people".
The judge heard that a computer was seized from a bedroom that was found to contain 187 pictures and video files.
Moan admitted possessing the images on dates between 5 July, 2011 and 9 September, 2011.
The prosecution lawyer told the court: "A second computer was seized in the living room and police recovered 746 pictures and video files depicting extreme pornographic images."
She added that some of the images were in two of the most serious categories of child sex abuse images.
A defence barrister said his client has been suspended from his post as a school caretaker and would now lose his job.
He told the court that Moan had started looking at the images for his own "sexual gratification" after the breakdown of his marriage and was drinking heavily.
However, the defence lawyer denied that Moan was part of any 'ring' or was involved in distributing the pictures and videos to others.
A probation report stated that Moan would need to go on a sex offenders awareness programme for three years.
The judge said: "This is a bad case. No child should be subjected to what I have viewed."
Moan was sentenced to two years, with nine months to be spent in custody and a further 15 months on licence following his release from jail.