Haass report is 'probably written' says UKIP MLA David McNarry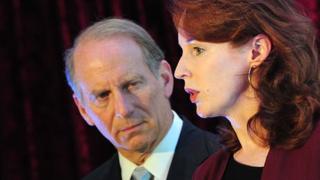 US diplomat Richard Haass has "probably written the end of his report" on parades, flags and Northern Ireland's past, a unionist assembly member has claimed.
UKIP MLA David McNarry was speaking after the former US envoy sent 10 questions to members of the five parties in the Northern Ireland Executive.
Dr Haass and his vice-chair Meghan O'Sullivan have asked a series of questions about parades, flags and the past to the DUP, Sinn Féin, UUP, SDLP, and Alliance.
The parties were asked to respond by the close of business on Wednesday.
On flags, the parties were asked: "What might a process to design and validate a new Northern Ireland flag look like?"
On the past, the parties were asked how might groups like the Historical Enquiries Team (HET) and investigations by the Police Ombudsman be "reformed, combined or otherwise reformed?"
The parties have been asked four questions about parading and protests, including:
What criteria should be considered by a parading body?
How might the political independence of a reformed Parades Commission or new parading body be established?
David McNarry, who is an Orangeman and an MLA, wants the Parades Commission to be abolished.
He thinks the Haass talks process is already pre-determined.
"Everything tells me Richard Haass has written the beginning of his report; crucially, he has probably written the end of his report," he told the BBC's programme Sunday Politics.
"What he is doing now is filling in the bits in the middle. His agenda has been completed."
'Respectful behaviour'
Dr Haass, a former US envoy, is due back in Belfast next week for intensive discussions and he hopes that a multi-party agreement can be achieved by the end of the year.
On parading, he has asked the parties: "What might a new or revised code of conduct include to encourage respectful behaviour from all those involved in parades, bands and protests?"
Joe Marley, who is a spokesman for the Crumlin Ardoyne Residents Association in north Belfast, says a code of conduct is crucial.
"I think the code of conduct should be embedded in every determination so that it becomes legally binding," he told the BBC.
"Those are just some practical suggestions about what we could do to strengthen the Parades Commission's position with dealing with this contentious issue.
"I think there are aspects of it that could be improved, could be strengthened, but it needs to be enacted."
Dr Haass also wants to know "how the political independence of a reformed commission or a new body would be established and maintained".
Local solutions
Back in 1996, Dr John Dunlop sat on a government committee that examined parading.
Out of that work, the Parades Commission was established.
Dr Dunlop, a former Presbyterian moderator, insists that any new body must have backing from all quarters.
"I would hope that this body would have the support of the local political leadership, so the local political leadership would itself be supportive of the membership of this particular body," he says.
Dr Dunlop believes local communities need to find local solutions; an idea that has worked in Londonderry in recent years.
Derry businessman Garvan O'Doherty has been involved in many discussions about parading.
He says the experience in the city could prove beneficial to other parts of Northern Ireland.
"Whilst we have a solution in Derry, that model can't totally be transported into other areas, but the ethos behind it can," he says.
"And the ethos is quite simply, let's try and make it work for all sides.
"The background to all of this was that we wanted to make sure the city prospered and grew, that it had lots of employment opportunities and lots of enjoyment for visitors."
Dr Haass and Prof O'Sullivan return to Northern Ireland next week.
Sunday Politics is broadcast on BBC One Northern Ireland at 23:35 GMT on Sunday.