Autumn statement: Northern Ireland block grant to increase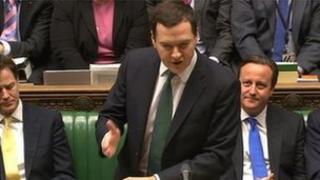 Northern Ireland is to see an increase in its block grant from Westminster over the next two years.
Chancellor of the Exchequer George Osborne announced it in his autumn budget statement to the Commons.
The Northern Ireland Office (NIO) said it would mean the executive would receive an additional £136m in funding through the Barnett formula.
The system governs how the devolved nations in the UK are funded by Westminster.
"The Barnett formula means that over the next two years, the budgets for Scotland, Northern Ireland and Wales will see a net increase," Mr Osborne said.
The Department of Finance in Northern Ireland is expected to clarify later what the extra money means for its spending plans.
Secretary of State for Northern Ireland, Theresa Villiers, said: "The autumn statement comes at a time when there is increasing evidence that the UK's hard work is paying off and the economy, in Northern Ireland and across the rest of the country, is recovering.
"So I strongly welcome today's statement by the chancellor and particularly the additional support for business and hard working people in Northern Ireland," she said.
"An additional £136m in Barnett consequentials gives the Northern Ireland Executive the flexibility to invest further in line with their own priorities.
"All of this is clear evidence of this government's continuing commitment to Northern Ireland."
Ms Villiers said Northern Ireland would see the direct benefit of other measures announced by the chancellor, such as cancelling a rise in fuel duty and a tax break for married couples.
'Positive impact'
Northern Ireland Finance Minister Simon Hamilton welcomed the additional £136m.
Mr Hamilton said the measures unveiled by Mr Osborne would have "a positive impact" for many people in Northern Ireland, like the abolition of National Insurance for those under 21.
He said that could save local businesses £10m.
He also said he believed 130,000 couples in Northern Ireland would benefit from a new tax allowance for married couples.
In a statement, the minister said he noted support schemes for businesses in England, in particular the £1,000 discount for local retailers.
"I am always prepared to look at new measures to support our businesses and I will consider the merits of the new initiatives in England once I have more clarity on how it will operate," Mr Hamilton said.
He said the Northern Ireland Executive had already "done much to support businesses" through the rates system.