Nama sells Templepatrick housing site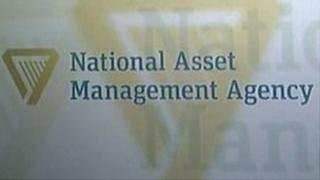 The Irish government's National Asset Management Agency (Nama) has sold a large housing site in County Antrim.
Nama had repossessed the 12-acre site on the Lylehill Road, Templepatrick.
It had been run by a company controlled by the County Derry-based Taggart brothers and Dublin-based Goodbody stockbrokers.
The site has planning permission for 122 houses. An an amended application to build 105 houses has now been submitted by Narva Developments.
That firm is controlled by the Cookstown developer, Desmond Nugent.
Mr Nugent's firms have previously built apartment developments in Belfast.
The asking price was £2.25m, though it is not clear what was paid.
Increase pace
The Taggart/ Goodbody joint venture paid £16m for the site the summer of 2007.
Nama controls about £1bn of property loans originally made by Dublin-based banks to Northern Ireland customers.
It has been gradually selling the properties it controls, though some politicians, including the first minister, have urged it to increase the pace.
In October, Nama's chairman Frank Daly said the agency would continue to take a "very measured approach".
He said that as the Northern Ireland economy recovered, the agency would "look to increase transactions where that is appropriate".