Breast cancer survival rates 'highest in NI'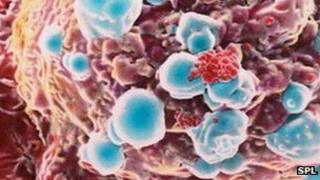 Northern Ireland has the highest breast cancer survival rates in the UK and Ireland, research has shown.
Researchers from Queen's University, Belfast, also indicated that Northern Ireland was among the highest for melanoma survival in Europe.
They found that survival rates for breast cancer in NI were 81.9%
That compared to 79% in the Republic of Ireland, 79.3% in England, 78.2% in Wales and 78.5% in Scotland.
The overall survival rate for breast cancer across Europe is 82.4%.
The data for Northern Ireland was provided by the Queen's Northern Ireland Cancer Registry.
Its research was part of a European-wide study that analysed the survival of more than 10m cancer patients diagnosed between 2000 and 2007 and followed up through 2008.
Skin melanoma survival rates in Northern Ireland were 90.7%, which is 7% higher than the European average, compared with 86.4% in the Republic of Ireland, 85.3% in England, 80% in Wales and 88.8% in Scotland.
The study found that cancer survival rates are improving across Europe but still vary widely between European countries.
Northern Ireland's survival rates for breast, rectum, prostate and non-hodgkins lymphoma are similar to the European average.
However, Northern Ireland's survival rates for stomach, colon lung, ovary and kidney cancers are lower than the European average.
Dr Anna Gavin, of Queen's Northern Ireland Cancer Registry, said: "While this study shows that cancer survival has improved in Northern Ireland and across Europe there is still a lot of work to be done.
"Survival among the elderly remains poor and late diagnosis is dragging our survival rates down.
"Survival rates of tobacco related cancers remains very low, and therefore efforts to reduce smoking need to continue.
"Reports like these show the value of data from high quality cancer registries like the one based at Queen's University and funded by the Public Health Agency."
Health Minister Edwin Poots said: "We work continuously to raise our standards and keep cancer services here up to modern quality standards - it is particularly encouraging to see that these figures indicate that we have been doing just that."
"However, there is no room for complacency in meeting the challenge of cancer and I would continue to encourage people to take greater responsibility for their own wellbeing and avoid the lifestyle choices, such as smoking, which increase the risk of cancer."