Belfast car bomb: Two men arrested by police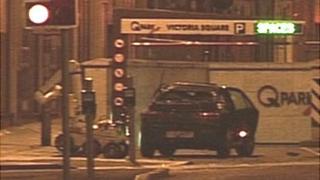 Two men have been arrested by police investigating a bomb attack in the centre of Belfast.
A device partially exploded inside a car at the entrance to Victoria Square car park on 24 November.
A masked gang hijacked a taxi in the north of the city, placed a bomb on board and ordered the driver to take it to the shopping centre.
It exploded as the Army prepared to examine it. Two suspects, aged 44 and 45, were arrested on Wednesday.
The arrests were made in north Belfast and the men have been taken to Antrim police station for questioning.
The bomb contained containing 60kg (132lb) of home-made explosives. No-one was injured.
Police blamed dissident republicans for the attack and subsequently announced a "significant increase in police presence" in Belfast city centre in the run up to Christmas.