Gerry Adams' Smithwick comments nauseating: Alan Shatter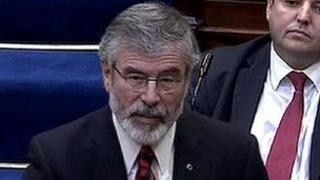 Remarks by Gerry Adams about the murder of two Northern Ireland police officers have been described as "nauseating" by Ireland's justice minister.
Mr Adams told a radio station in the Republic of Ireland that the two senior RUC men had shown a "laissez-faire" attitude to their own security.
Ch Supt Harry Breen and Supt Bob Buchanan were shot dead in an IRA ambush in March 1989 in south Armagh.
Judge Peter Smithwick found there was Irish police collusion in the murders.
Mr Adams defended his comments on Wednesday saying they reflected the Smithwick report.
However, Irish Justice Minister Alan Shatter said: "I found Gerry Adams' contribution this morning to be nauseating. The truth is you had two respected, senior members of the RUC barbarically murdered in cold blood.
"As far as Gerry Adams having referring to there being a war at the time, it was a war substantially created by the Provisional IRA."
Northern Ireland Secretary of State Theresa Villiers said: "Mr Adams' comments are deeply insulting and offensive. This was a case of brutal premeditated murder by the Provisional IRA and nothing Mr Adams says will ever change that fact.
"At a time when Dr Haass is looking at ways of dealing with legacy issues it is difficult to see how Mr Adams's comments square with his oft-repeated calls for reconciliation and truth."
The leader of Fianna Fáil called on Mr Adams to withdraw his remarks. Micheál Martin said the comments were "incredible".
The Smithwick Tribunal was set up by the Irish government in 2005 to investigate claims that officers based in Dundalk Garda (police) station had assisted the IRA gang that ambushed the two officers on 20 March 1989.
In the report of his inquiry published on Tuesday, Peter Smithwick said he was "satisfied there was collusion in the murders".
Premeditated murder
Mr Adams said the evidence provided to the tribunal suggested that the senior RUC men seemed to think they were immune to attack.
But FF leader Mr Martin condemned the remarks.
"I think it is insulting to the families concerned, it should be withdrawn," he told the Irish parliament, the Dáil, on Wednesday.
"I think it essentially almost blames by implication the officers themselves. We should be very clear in this house that this was premeditated murder."
Also speaking in the Dáil, Mr Adams defended the comments he had made in an earlier interview for Newstalk radio.
"What I said on Newstalk, for the record, reflects the Smithwick Report," he said.
"It reflects the statement given to the Smithwick inquiry by the RUC, by an Garda Síochána and by former IRA volunteers".
He also said, that the two men were brave officers "doing their duty as they saw it, just as the IRA volunteers were doing their duty as they saw it".
In his Newstalk interview, Mr Adams said the officers - two of the most high-ranking killed in the Troubles and frequent visitors to the Republic of Ireland - had a laissez-faire disregard for their own security.
He accused them of thinking they were immune to an IRA attack.
"If you read the evidence (to tribunal lawyers) by the former IRA volunteers - and I say this with as much sensitivity as I can muster - these two very prominent RUC officers were sailing in and out of Dundalk Garda station, (and) were doing so in quite an open way," he said.
"The former IRA volunteers said that one of the officers was spotted coming from the station, that they then used a house overlooking the station to monitor comings and goings, that they were able to trace - I think there was also a pattern in terms of meetings.
"When you have that type of laissez-faire disregard for their own security, by both An Garda Síochána in relation to these two officers, and more importantly these officers themselves - here they were in the heart of south Armagh in the middle of a very, very severe conflict at that time, and seemed to think that they were immune from attack by the IRA, and, tragically, as it turned out for them that was not the case.
"When you have that type of failure to protect the RUC operatives in the middle of a war then what happened happens.
"I'm sure the same thing has happened with IRA volunteers who were killed, that it was not necessarily intelligence or inside information but simply that they made a mistake. This has happened tragically in all conflicts."
'Grossly insensitive'
DUP MLA Arlene Foster said Mr Adams' comments were "beneath contempt".
"This is not the first time where republicans have effectively blamed victims for their own murder, but rarely has it ever been as explicit as these comments," she said.
"Those responsible for this murder were the IRA gang who carried it out and those who assisted them with information."
Ulster Unionist leader Mike Nesbitt said: "This is one of the more disturbing cases of Sinn Féin double-speak. I don't see how he cannot have realised how grossly insensitive and offensive this use of language will have been to the Breen and Buchanan families.
"Sinn Féin are the self-proclaimed party of respect. They may need to re-evaluate that."
'Just vile'
SDLP justice spokesman Alban Maginness said: "To blame victims for being murdered and try to apportion responsibility to them for being killed is just vile.
"It is clear that Sinn Féin will do all they can to rubbish the Smithwick report which was completed after a painstaking process but to blame victims for being killed is a new low."
Traditional Unionist Voice leader Jim Allister said the two officers were killed "because bloodthirsty terrorists went out to gun them down".
"There is no parallel between the officers who went out that day to try and combat terror and the criminals who went out to murder," he added.