Lyric theatre vice-chair Sidney McDowell accused of 'contempt'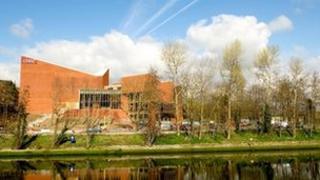 A theatre boss has been accused of showing contempt for Stormont's spending watchdog.
The Public Accounts Committee was upset the Lyric vice-chairman did not come to answer questions about criticism of the committee and an audit office report.
The committee wants to ask Sidney McDowell about remarks made on radio.
The PAC had said it had a "strong impression" the award of a £11m contract to rebuild the Belfast theatre was "rigged and manipulated".
The committee wants Mr McDowell to come along next week.
"Information he gave on radio and television was factually incorrect," the SDLP's John Dallat told the committee.
"Never before," he added, "did anyone fail to turn up at a Public Accounts Committee meeting."
Mr Dallat said Mr McDowell needs to explain his non-attendance, which he called "disgraceful."
Michael Copeland UUP said Mr McDowell must be compelled to come to the committee.
In a statement on Wednesday evening, Mr McDowell said: "I have been in continuous correspondence with the PAC over the last week, and have been making it clear that I am prepared to attend the committee."