IRA break-in at Castlereagh 'part of murder plan'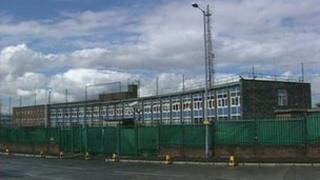 An IRA raid on a Belfast police station was part of a plan to kill Special Branch officers, a court has been told.
One of those whose details were stolen in the break-in at the Castlereagh station claimed it was carried out by the IRA to target their "main enemy".
The former officer is suing over what he says were the medical and financial consequences for him of the 2002 raid.
He told the High Court the security breach compounded post-traumatic stress brought on by decades of service.
Sensitive files
"The elastic band stretched so much that it just broke and my nervous system went haywire," he said.
The man who brought the action is identified only as CR19 for security reasons.
He had retired from the police more than a year before the burglary.
Intruders broke into a Special Branch office at the station on St Patrick's Day 2002.
They escaped with sensitive files believed to have related to officers and their agents inside paramilitary ranks.
Millions of pounds was spent re-housing officers and others whose security was compromised by the episode.
Responsibility for the burglary, which rocked the peace process, was denied by the IRA at the time.
However, according to CR19, the paramilitaries were to blame.
Heavy drinking
"The Provisional IRA don't break into Special Branch offices for comic books," he said.
"They went in to get our details for a special job; that was to kill us because we were known as their main enemy."
A number of legal actions against the chief constable claiming personal injury, financial loss or breach of data protection have already been settled.
CR19's negligence claim has continued over the level of compensation to which he could be entitled.
The judge heard details of his years of heavy drinking, involving up to a bottle of whiskey a day.
Medical experts said that, along with other work-related experiences, the Castlereagh incident had a significant, detrimental impact on his health.
CR19 told the court how police came to his house weeks after the raid to tell him and his family.
"He informed me that we were under severe threat and that my details had been taken from Castlereagh during the break-in," the former officer said.
He chose not to relocate under a special scheme to purchase evacuated dwellings and increased security was installed at his home.
He said he is now unable to sell the house and that he lost out on a job overseeing security for a major construction company.
Threats
CR19 claimed the work, which involved helping the firm deal with racketeering and intimidation threats, would have been "wee buns" to him.
He said he had to turn it down after the Castlereagh raid because he could not leave his family "looking over their shoulder every minute for the attack".
Counsel for the PSNI, put it to him that the job opportunity was never more than an "unrealistic pipe dream".
The barrister, who contended that any damages should be limited to £15,000 to £20,000, also said that CR19 had to twice move home earlier in his police career.
"Threats have been a feature of your life before and after Castlereagh," he said.
"When Castlereagh happened you had retired from the police 14 months previously and were living in an area regarded as generally safe.
"The information stolen wasn't limited to you, it was information about a great many Special Branch officers who worked at Castlereagh."
Following closing submissions the judge reserved his decision.