Game of Thrones key to Northern Ireland tourism plan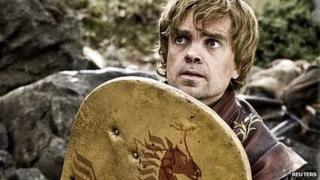 The worldwide popularity of the HBO TV series Game of Thrones is to be used to attract more tourists to Northern Ireland over the next three years.
Much of the show is filmed on location in Northern Ireland.
It will be used to promote the region, alongside the Giant's Causeway and Titanic Belfast.
Launching a Tourism Ireland strategy, Enterprise Minister Arlene Foster wants to increase overseas visitor numbers to more than 2m a year by 2016.
She said: "In order to attract new and repeat visitors, Tourism Ireland will be seeking to capitalise on the huge popularity of Game of Thrones.
"Golfing visitors will also continue to be a key sector," she added.
Latest estimates from Tourism Ireland indicate that 1.8m people will have visited Northern Ireland by the end of 2013.
Growing tourism is a Northern Ireland Executive priority and the sector employs around 54,000 people locally.
"Given the importance of tourism, I am setting challenging targets," said Mrs Foster.
"It is essential Northern Ireland stands out from other destinations."
Both she and Tourism Ireland said hosting next year's Giro d'Italia cycle race was an important marketing opportunity.
Global coverage of the event will beam "wonderful images of Northern Ireland into the homes of millions around the world," said chief executive of Tourism Ireland Niall Gibbons.