David Trimble says Stormont's welfare power 'should be removed'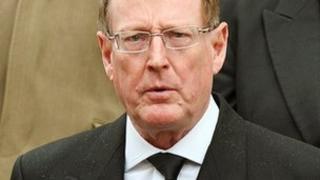 Stormont's powers over welfare policy should be removed, a former first minister of Northern Ireland has said.
Lord Trimble was speaking in the House of Lords, in a debate about planned political reforms in Northern Ireland.
He said that "there is a case for transferring welfare to Westminster as an excepted matter", meaning the powers would be taken from NI politicians.
His remarks came as the NI Assembly faces a £5m per month penalty for delaying welfare reform legislation.
'Nationally unified'
Benefit changes are being implemented in other parts of the UK, and the Westminster government has warned Stormont representatives that the UK taxpayer "cannot continue to fund" Northern Ireland's unchanged welfare bill.
Lord Trimble told peers: "If one favours, as I do, a nationally unified tax and benefits system, it does not make sense for part of that system to be under Westminster and part to be devolved to Stormont.
"Both parts should be together, which is the case with regard to Wales and Scotland, where welfare is not devolved."
The Conservative peer said that Northern Ireland should operate within the "principle of parity" - matching the tax and spending policies of the Westminster government.
He told the Lords: "That principle flows from the existence of the unified tax and benefits system, which is at the heart of being part of the United Kingdom.
"I do not have to remind folk in Northern Ireland that that parity was hard won and is of huge importance to poor and unemployed persons.
'Pandora's box'
"The Stormont parliament stuck firmly, step by step, to UK national welfare policies, whether it liked them or not, and resisted opportunist suggestions from some within its own ranks to depart from parity. The Northern Ireland Executive have done that until now."
The peer, who is a former leader of the Ulster Unionist Party (UUP) served as first minister of Northern Ireland for various terms between July 1998 to October 2002.
He was the first person to hold the post in Northern Ireland's devolved power-sharing government.
In Tuesday's debate, he told the House of Lords he was defending the principle of parity, not debating "the advantage or otherwise" of social security changes.
"I say to those in Belfast who are seeking regional variation that they have to bear in mind the consequences that would flow from it," he said.
"If the door was open to regional variation, it could be a two-way street, and it could apply to other things as well.
"What comes to mind immediately are things such as public sector pay. Therefore, I suggest to the Northern Ireland Executive that they should close this Pandora's box as quickly as possible."
'Financial penalty'
Lord Trimble said the "anomaly" of having devolved welfare in Northern Ireland but not in Scotland or Wales "could be tolerated while Stormont adhered to parity.
But he said that because now Stormont had "departed from parity, the matter should be addressed properly".
"I am sure that the government here would prefer to sort things out quietly, but so far that has not worked and, as noble Lords will know, a financial penalty has been imposed. That is scheduled to increase but one cannot be sure that that will be the end of the matter," he said.
"Westminster has the power to enact its new welfare policies over the head of Stormont.
"However, if there is to be legislation, there is a case for transferring welfare to Westminster as an excepted matter so that this issue will not recur in the future."
Lord Trimble was speaking during the second reading of the Northern Ireland (Miscellaneous Provisions) Bill.
The bill aims to introduce political reforms such as an end to "double jobbing" among MPs and greater transparency in party donations.