Dentist Prof Philip Lamey 'failed to diagnose cancer'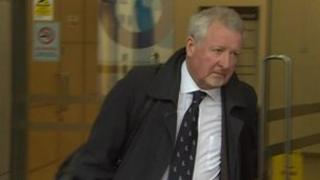 A senior dentist failed to diagnose a tumour that existed in a pre-cancerous form for 15 years, a court has heard.
Prof Philip Lamey is accused of failing to spot the changes in a patient who for years had a dry and itchy mouth condition that turned into cancer.
The court heard he diagnosed smokers' keratosis - damage caused by cigarettes - despite the man not being a smoker.
It heard he failed to carry out the right examination to identify any sinister changes in the lesion.
Prof Lamey faces 46 charges of misconduct at the General Dental Council (GDC) disciplinary hearing.
One hundred and thirty five of his patients at the School of Dentistry at the Royal Victoria Hospital in Belfast had to be recalled after 35 of his patients developed cancer - four of whom eventually died.
In another case outlined on Tuesday afternoon, the hearing heard that a woman's mouth cancer was missed when Prof Lamey failed to earmark her case as a priority.
Prof Lamey is alleged to have not read the warning signs that the woman had a tumour growing in her mouth when he was given a referral letter by her GDP - general dental practitioner.
It is also alleged by the General Dental Council that he kept on giving her blood tests that were "unnecessary" almost a year after her dentist raised their concerns.
Biopsy
The panel heard how one patient, a non-smoker who had suffered from a complaint from the mid-1990s, was eventually diagnosed with cancer.
Prof Lamey missed its transformation into a tumour and failed to carry out a biopsy on the lesion, the panel was told.
According to the GDC, he also incorrectly recorded that the patient's iron levels were low and prescribed an iron supplement.
Expert witness Prof Stephen Challacombe said that over a ten-year period, there is a 5% risk that oral lichen planus, a common condition, can turn into cancer.
David Bradly, counsel for the GDC, put it to him: "If there's been something going on there for this amount of time, there must come a time that you do need to know what's going on."
Prof Challacombe said: "It's always important to know what's going on if there's been no significant change.
"The longevity of leukopenia in the oral cavity can last 30 years.
"I would be looking very closely at the keratosis, and biopsy would be used for any changes in that lesion."
The patient first reported the symptoms in 1994, followed by visits to Prof Lamey in 2004 and 2009.
Lichen planus can affect people for long periods of time, although the patient's symptoms flared in 2004.
Smoke damage
Mr Bradly asked about the significance of the symptoms being exacerbated so long after the initial diagnosis.
Prof Challacombe said he "would like to know what's going on histologically" - with the cells in the lesion.
When asked by Mr Brady: "You would have biopsied this patient in 2009?" he replied, "yes".
Earlier the panel heard how a 46-year-old woman, known as patient 33, who had been smoking for 30 years was not given a biopsy despite having smokers' keratosis; white patches associated with smoke damage.
It hid a more serious condition below it, which could have been picked up in a biopsy.
Mr Bradly asked: "If there had been something there previously, you would have expected to find it?"
Prof Challacombe said: "Yes."
The hearing was adjourned until Friday morning.